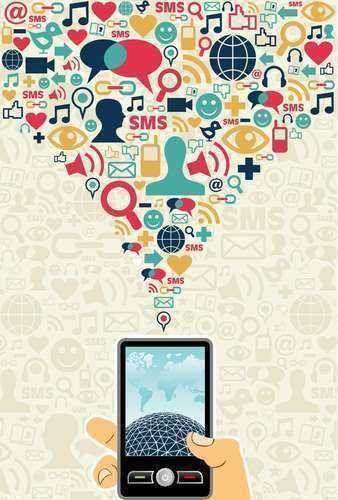 Everything About Cell Phone Advertising
One of the biggest changes to the internet in recent years has come from the explosive growth in mobile browsing. Even five years ago, it was difficult and inconvenient to use the internet on a cell phone, but today's smartphones make web browsing so easy that recent statistics indicate that the amount of mobile web traffic will overtake web traffic from computers by 2014. This is a market you can't afford to ignore—but how can you get the most out of cell phone advertisements? Keep reading to find out strategies, terminology, and more about this new frontier of advertising for your law firm.
SMS Cell Phone Advertising: Benefits and Basics
When you start considering using cell phone advertisements, one three-letter acronym will come up again and again. SMS, short for "short message service," is the dominant way that people communicate using mobile phones. Typically, the maximum size of one of these messages will be 160 characters, so if your law firm wants to consider SMS cell phone advertising, you should be prepared to be brief and to the point.
Using cell phone advertisements through SMS can be a great deal more effective than email advertising. This is because spam filters catch a great deal of bulk email, and people tend not to even open email that isn't from people they know personally. In fact, while SMS use has been booming, email has taken a nosedive—usage is down by 59 percent in just the last year. Research shows that people do open their text messages, even when they don't open emails: up to 97 percent of texts are read.
SMS Cell Phone Advertising: A Word of Caution
Using cell phone advertisements well can generate great leads for your business, but use caution. Statistics show that at over half of mobile users have unsubscribed to a SMS list after opting in to receiving communications. There are two good principles to keep in mind if you want to keep your SMS subscribers: don't send messages too often, and when you do, make them worthwhile.
If you send cell phone advertisements too frequently, it won't matter how great your cell phone advertising is. Even if you're offering to just give your services away for free, people ignore any single number that keeps sending repetitive advertisements.
It's also important that you make it worthwhile for someone to open one of your SMS messages. If your cell phone advertisements are nothing more than a rehash of things that your subscribers already know, it's unlikely that you'll have much success. Try to tell people something new or unusual, or link to a mobile-friendly webpage that contains additional engaging content.
Customer Relationship Marketing With Cell Phone Advertising
When you're a small law firm, it's critical to keep the clients that you have. If your firm collects cell phone numbers of clients, you may want to ask them to opt in to newsletters with content that might be interesting to them. Cell phone advertising that is designed for customer relationship marketing targets people who are already your clients, rather than new leads. These cell phone advertisements shouldn't look as much like ads—instead, you should focus on leading clients to social media sites, blog entries, or newsletter articles.
Here, again, it's absolutely critical that you don't alienate your clients by inundating them with information. Just one piece of cell phone advertising per week can be enough to keep your firm's name on a client's mind, without making them think that you're a spammer. If you haven't used cell phone advertisements for existing clients before, you may want to offer some kind of promotion to get previous clients back into your offices.
Microtargeting Your Clients With Cell Phone Advertising
When you send cell phone advertisements to your clients, you can target your ads more narrowly with this type of advertising than almost any other. Cell phone advertising is a lot like direct mail advertising, in that you can choose exactly which people see which message. If your law firm practices in several different legal fields, you can target different types of cell phone advertisements to different clients.
While a certain degree of microtargeting is usually considered acceptable by customers, 86 percent of Americans see some microtargeting and profiled advertising as an invasion of privacy. You should always monitor the results of your cell phone advertising campaigns, so that you can be certain that your cell phone advertisements aren't hurting more than they're helping.
You should also avoid sending microtargeted cell phone advertising to customers if it might contain information that could be sensitive if it was seen by the wrong person. If someone consulted with a divorce attorney to see whether divorce was feasible, receiving a SMS about divorce law could be disastrous if seen by a spouse. Be aware of how your cell phone advertisements could be seen, and make sure that you're sensitive to the needs of all of your clients and potential clients.
Cell Phone Advertising Integration
Cell phone advertising is best when it's combined with other forms of advertising. The opportunities for integration are endless—did you know that over 85 percent of mobile users use their cell phones while watching television? Make sure that when you broadcast television ads, you include a web address for a mobile friendly version of your website for the people at home who might have a smartphone in their hands. Print advertising can also include not only web addresses, but also quick response (QR) codes that can be photographed by a mobile device to send a potential client to your site.
The best way to make sure cell phone users can use your website effectively is to optimize one version of your site for mobile users, and then base which version of the site customers see on what device they're using to access it. Even if you don't have a full mobile version of your website, you should at least make sure that your regular website displays properly on Android phones and iPhones.
Comments
comments