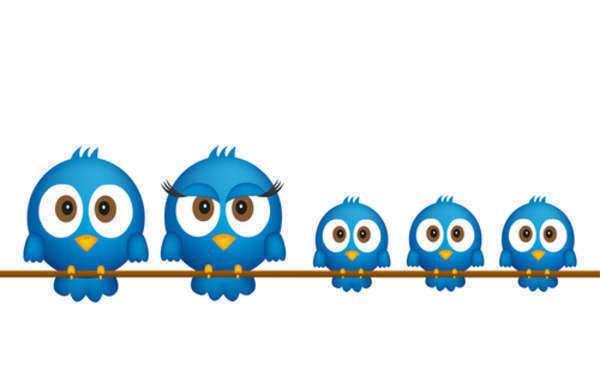 When Twitter first came out, many attorneys thought that the microblogging service would be a blip on the marketing radar—here today, gone tomorrow.  However, in 2013, it's becoming increasingly obvious that Twitter is here to stay for the foreseeable future.  If you're one of the nearly half of attorneys who still doesn't have an account on Twitter, here are seven reasons that you need to get on board this year.
#1: Twitter Is Growing—Fast
Over 60 million people have joined Twitter in just the last year.  The rate of growth that Twitter has experienced since getting off the ground in 2008 is incredible.  What's more, the activity levels of users on Twitter swell during big events.  In other words, you can use Twitter to get into the conversation right when people are paying the most attention.
The continued growth of Twitter may be slowing down slightly due to how many people are already active users of the service.  Currently, Twitter claims to have over 200 million total active users—as many as the adult population of the United States.  What's more, the user population of Twitter tends toward slightly younger people who have a lot of influence in their social circles.  These are exactly the kind of brand ambassadors that can be most effective in bringing your firm's message to other users on Twitter and people off the internet.
#2: Twitter Conversion Rates Are Through the Roof
When surveys have been done of which social media sites are most likely to generate client conversions, Twitter almost always comes out on top—often by a lot.  Some surveys have shown that Twitter is up to nine times as likely to create conversions than any other social networking site available.
Those numbers are too big to ignore for any law firm today.  If you're not participating actively in Twitter, keep in mind that you won't experience these same conversion rates.  Conversions come not from just having a Twitter account, but by creating unique tweets, participating in conversations with other Twitter users, and understanding how to use the site's hashtags and other features.
#3: It Doesn't Take As Long As Other Networks
Because tweets are character limited, it's substantially easier to maintain a Twitter account than almost any other kind of social media account.  Given the fact that tweets can travel fast, there's a great return on your time investment.  Twitter can be a way to give your thoughts or see what other people have to say.  You can use Twitter for a few minutes to jumpstart your creativity.  The quick nature of tweets means you can read many in just minutes.
#4: Ease of Connection
Tweets travel better than any update on LinkedIn or status update on Facebook.  Tweets can get picked up by people who have national or even global influence and reach, all within a few degrees of even a small law firm.  A good idea travels fast.  If your firm wants to connect, it's going to need great ideas and content that is concise, intelligent, and without pretense.  Don't try to be something that you're not, but don't sell your own ideas short, either.
#5: Business to Business Twitter Contacts
Keep in mind that Twitter isn't like Facebook—primarily a way to keep in contact with consumers.  It's also a very good business to business network if you build the right contacts and retweet the right people.  Keep in mind that business to business contacts are cultivated by slow building of relationships.  You're not usually going to see immediate dividends in terms of new clients when you start your Twitter account or for the first several months that you have it.  That's fine—the biggest rewards from having a Twitter account that stays active will come from having a long-term account that has invested in relationships with other people on the social networking site.
If you're going to maintain good quality business to business contacts, make sure that your tweets sound businesslike and professional.  Don't make the mistake of using too much jargon or too many internet acronyms.  These kinds of uses can make you seem like you're trying too hard.  Use hashtags, but use them relatively sparingly, rather than using four or five in every tweet.
#6: Search Engine Optimization
Google weights tweets highly when it comes to its searches.  This means that if you're ignoring your Twitter account, you're also ignoring one of the best ways to make sure that your firm's name is visible when people search using the most commonly used search engine in the world.
An active Twitter account is great search engine optimization for your firm and can ensure that you are visible to people who search for your firm either by name or by specialty area.  If you're clever about making sure that your brief Twitter description includes a concise and keyword conscious description of your specialty areas, you'll have a much higher search ranking for your Twitter account than for other types of social media accounts.  This is a positive way to show your company.
If you want your Twitter account to be at its best for search engine optimization, the days of overusing keywords are over.  This means that you must keep your Twitter account looking clean and full of worthwhile content.  People will read your tweets only if you make sure that they're actually worth thinking about and passing on.  Remember that the better your ideas are on Twitter, the more you'll be doing for your overall search engine optimization.
#7: Looking Forward
It's important as a law firm that you're perceived as doing the right thing and looking toward the future when it comes to your marketing plan. Since Twitter has continued growing, it's very possible that neglecting your Twitter account will actually start to lose clients for you in a very meaningful way within the next year or two.  Keep your firm looking forward by maintaining a presence on the social media site most likely to maintain its relevance for several years to come.