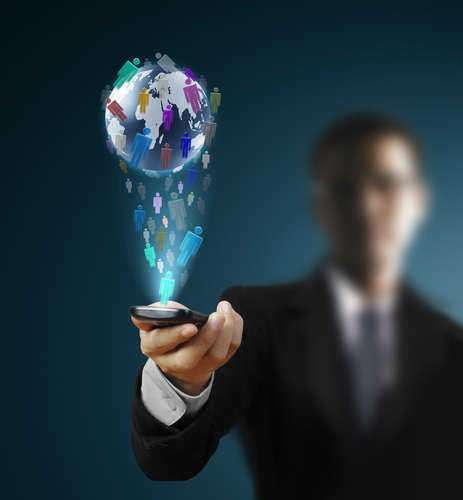 Everything About Cell Phone Marketing
Developing a marketing strategy for law firms today involves using more technology than ever before. Studies show that web traffic from smart phones has doubled every year for the last three years, and shows no sign of slowing down. In this economic climate, effective cell phone marketing can give you the edge you need to beat your competition. Keep reading to find out how to stay on top of the mobile revolution and stay competitive in a rapidly changing world.
Beyond Phone Calls: What Cell Phone Marketing Can Do For Your Firm
The era of using mobile phones just for phone calls has come and gone. Today, many young people rarely, if ever, use the voice functionality of their mobile devices. Instead, mobile phones have become a window to the World Wide Web that allows people to stay connected wherever they go. Cell phone marketing today is less about making calls and more about the way your website displays on mobile phones.
By optimizing your website for cell phone marketing, you can see a nearly immediate rise in client phone calls. It's easy to see the reason why—when a client looks at your mobile friendly website from a smartphone, all they need to do is click your phone number to make a call. This eliminates several intermediate steps and makes it much more likely that a reluctant client will call instead of delaying getting legal advice.
Making Your Website Cell Phone Marketing Friendly
The best way to make sure that your website looks great to cell phones is to use several makes and models of phones to look at your website. You can make your cell phone marketing work for more people by checking out your site using an Android phone, an iPhone, and a non-smartphone that still has internet connectivity. Note the differences between how your website displays on these different types of phones.
Mobile usability depends on several factors. It's not enough to make sure your page isn't garbled or unreadable when a mobile user looks at it. If a user has to zoom in extensively, or click very small, close-together links, it's very likely that they will just press "back" and look for a website that is better at acknowledging their needs.
You may want to make some basic legal information available in small, digestible chunks so that cell phone users can check out articles when they are browsing. Keeping a mobile-friendly blog can also be useful for cell phone marketing—entries that are just one or two paragraphs long but still engaging and with great information can keep mobile readers from bouncing back.
Why SEO Is More Important Than Ever
The size of touchscreens makes clicking and scrolling through results more tedious than it is on a computer. Because of this, statistics show that mobile users are much more likely to click on one of the first pages of results, often even a result in the first half of the top page of results for their search. This means that any search engine optimization your firm does is critical to getting mobile users as clients.
Make sure that you're monitoring your website's traffic in order to identify pages that are receiving a large number of visits from mobile users. Having these pages or topics available in a mobile-friendly format can draw in a larger number of visitors who will then stay longer. As more mobile phones become capable of streaming video, it's also a great idea to search engine optimize your videos and check their visibility on several common brands of mobile phones.
Cell Phone Marketing via SMS
Another form of cell phone marketing involves sending text (or SMS) messages. These messages can be used to send out your firm newsletter to clients and business contacts, or to advertise a promotion that your firm has started. You can also set up a service to autoreply to texts containing a particular word so that potential clients get information they need right away.
If you decide to use SMS cell phone marketing, your biggest enemy is the delete button. Fighting it means that you'll have to keep your clients interested in what you have to say, and—even more critical—that you don't become an unwelcome intruder by repeatedly texting day in and day out.
Advertising With Apps
Cell phone marketing can also involve actual programming. While it's unlikely that any but the largest law firms could afford a full-time app programmer, your firm can hire outside contractors to help you develop an app that presents your content in a new and engaging way.
Some attorneys have already been successful with offering apps that operate as effective cell phone marketing for their firms. For example, one lawyer was able to list a free app that gave people concise, easy to use information about what to do if they were in a vehicle accident. Apps can set your firm apart from the competition, especially when you advertise your apps using social media websites. Some apps—usually the ones with an innovative format as well as great content—can even go viral and get tens of thousands of downloads in a short period of time.
Looking Ahead: The Future of Cell Phone Marketing
One of the biggest frontiers in mobile marketing was developed initially by Apple. Siri, a new feature of the iPhone 4S, offers cell phone users a new way to search for information: by using their own voices. The advanced voice recognition technology of the Siri makes people more likely to make "natural language" queries instead of just searching for keywords.
While it's too early to know exactly how voice searching will impact keywords, and not many people yet have a phone with this feature, remember that just a few years ago "smartphones" were brand new and roundly mocked by many observers. You can't afford to let your cell phone marketing fall behind—embracing new technology is the easiest way to get ahead of your competition in both the short and long term.
Comments
comments