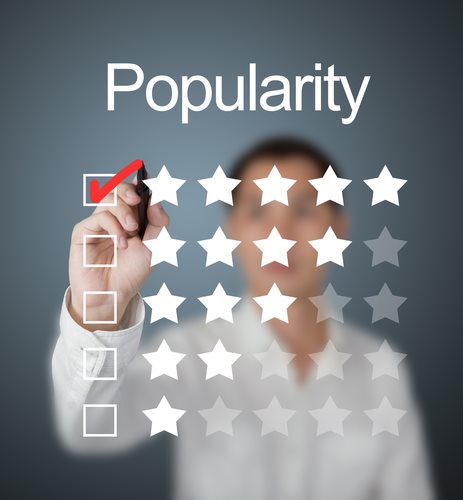 Today, the vast majority of people go online to shop for their lawyer before deciding on an office to visit for a consultation. The majority of those online searchers now use a relatively new tool to help them make their decisions: rating and review websites. These websites can now make or break attorneys, as people seek out attorneys who have higher numbers of five star ratings. In this guide, we'll explore how to build your ratings using ethical, effective techniques.
#1: It's Not All About the Lawyers
One of the biggest mistakes that attorneys make when they first hear about ratings services is thinking that as long as they're giving great client service, they won't be vulnerable to low ratings. However, many attorneys have reported receiving low ratings not because of their consultations, but because of things outside the closed door of their office.
For example, if you're a fantastic, client-focused attorney, but your secretary is rude to a potential client who walks in off the street, or if the people at your answering service have thick, impenetrable accents, or your office building is dingy and in a high-crime area, you may end up losing ratings points just because a client has a bad experience with one of these aspects. You may think that this is unfair, but fair or not, it is what it is—you need to be thinking about all parts of a client's experience, from the moment they pick up a phone to schedule an appointment until their case is finished.
#2: The Client is (Almost) Always Right
A lot of times, you can avoid getting a negative review or rating just by talking to your clients and making sure that their needs are being met. Try to return all phone calls on either the same business day as you receive them or, at latest, the next business day. When you see that you've disappointed a client, try to really take stock of what has happened. Were their expectations unclear or unreasonable? Did you overpromise and underdeliver?
In some circumstances, you may actually be better off refunding a client's money rather than continuing an attorney/client relationship that is tense or difficult. If one of these clients leaves a negative rating or review on a website, you could be faced with a significant problem that affects you for months to come. Consider apologizing and refunding a client's money if they're unhappy, even if you believe that you were in the right.
#3: Know When to Turn Down Work
You can avoid a large number of potentially angry clients by simply not accepting their cases in the first place. While it's important to keep the lights on, and while many attorneys today are trying to take as many cases as possible, you need to know when a case is beyond your ability or experience level. Today, too many younger attorneys who hang a shingle don't know when they've gotten in over their heads.
If you turn down a fairly low amount of work, you should also make sure that you have a mentor with a greater amount of experience who can guide you if you become stuck or are unsure of your next move. A good mentor can get you out of a jam and help you grow professionally, ensuring that your reviews and ratings are positive.
#4: Know When To Ask for Reviews
Sometimes, you'll want to ask the clients you know are satisfied for a review. Happy clients give positive reviews, and clients are at their happiest when their cases have just been resolved. Plaintiffs in personal injury suits tend to be happiest on the day when they pick up the check, while recently divorced spouses tend to be at their happiest after the divorce is finalized and the experience of negotiating a divorce settlement is finally over.
If you ask your clients to create a review for you on a ratings website when they're at their happiest, they'll have a good recollection of your services and will be able to provide up to the minute information for other people. These kinds of reviews are much more trusted by consumers than advertisements and other kinds of marketing materials, so don't be shy about asking your happy clients for some ratings love.
#5: Monitor Ratings and Reviews Consistently
Some attorneys feel anxiety over their ratings and reviews, and respond like an ostrich burying its head in the sand. Don't be afraid to look—it's not looking that will hurt your business much more. By keeping a close eye on your ratings and reviews, you can be sure that you know what's going on and when you need to solicit additional reviews from satisfied clients.
#6: Don't Lose Hope Over a Bad Review
Everyone gets a bad review once in a while. While a bad review can seem devastating initially, it's important not to lose hope or decide that reviews are garbage just because of one or two unfair negative comments. Keep in mind that every client's experience is different, and make an effort to get your clients who have had good experiences to post to these same websites where the offending review appears.
In general, most ratings websites won't let you take a review down just because it's negative. However, in some limited circumstances, you may be able to have a review taken down and deleted permanently if you can show that the person was not your client—for instance, if they were a business rival from another firm who was simply attempting to defame and discredit you. If you want to claim this, though, be prepared to go in with some kind of evidence. Your word won't usually be enough—if it was, every business in town would claim sabotage as soon as they saw a negative review.
Comments
comments